Arsenal can fight for Premier League and FA Cup - Mathieu Flamini
Mathieu Flamini has said Arsenal have the squad depth to compete for both the Premier League and FA Cup this season as the club look to lift the latter for a third time in a row.
Arsenal can become the first team in 130 years to win three straight FA Cups, although a long run in the competition could possibly hamper what some see as the team's best chance in a decade to win the Premier League.
But even with a squad hit by injuries, Flamini thinks Arsenal can compete on both fronts as they prepare to play Sunderland in the FA Cup's third round on Saturday.
"The secret is to have a team with a lot of quality and enough players to compete in the Premier League and the FA Cup. I think Arsenal have that quality here so that's why we can compete every time in the FA Cup," the French midfielder told the club's official website.
"The FA Cup is a very important competition here in England. It's a tradition here and for Arsenal the FA Cup is a special cup because we have won it for the last couple of years, so obviously you want to defend your title and win it again."
While manager Arsene Wenger could rest some key players ahead of a Premier League trip to Liverpool on Wednesday, defender Calum Chambers said the squad is eager to chase history in the cup.
"It would be an amazing achievement [to win it for the third time in a row] and I'm sure everyone will be doing everything to get there," Chambers said. "I wouldn't say we are discussing it but we are thinking about it."
Chambers has been used sparingly this season but could be handed a start in defence or holding midfield against Sunderland as Wenger tries to rotate his squad.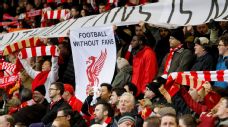 "I think for every Englishman it is a very memorable cup," he said. "It gives that edge to it so you want to win it even more. You have to have both short range and long-range goals. A long-range goal would be to break records, win trophies and do well, so I think everyone strives for that."
Flamini has already won the FA Cup three times. He was the only member of Arsenal's 2005 triumph who also took part in the last two wins at Wembley Stadium after returning for a second stint with the club.
He said the most important victory was the extra-time win over Hull in 2014, which ended Arsenal's nine-year title drought.
"My favourite is the first one after I came back because the club hadn't won for so long and I said that I was coming back to sort some unfinished business," Flamini said. "To win a title after not winning one for so long, and to do it in the year I returned, I was so pleased for everyone."
Mattias is ESPN FC's Arsenal correspondent. Follow him on Twitter: @MattiasKaren.