Petr Cech reveals debt of gratitude to Chelsea coach Christophe Lollichon
Arsenal goalkeeper Petr Cech has revealed how the innovative training techniques devised by Chelsea keeping guru Christophe Lollichon have helped him remain at the top of his form.
The Gunners' 2-0 win against Bournemouth last month saw Cech record his 170th Premier League clean sheet -- a competition record.
The 33-year-old's consistently impressive form has helped his side to top the table after 20 matches with the second-best defensive record in the division, having conceded just 18 goals.
He said a 2007 Stamford Bridge reunion with Lollichon, with whom he first worked at Rennes, had enabled him to refine the goalkeeping drills that have underpinned his game ever since.
"If you're a professional goalkeeper for 20 years and somebody keeps shooting the ball at you, after a while just catching it from 15 yards will not make you progress," he told the Evening Standard.
"You don't go any further than just catching the ball from that distance. So you have to find a way of making that exercise more complicated so you know your brain will switch on and go further than this.
"This is the way he [Lollichon] works. We try to catch different shaped balls, bigger balls or smaller ones because then you need to adapt your hand-eye coordination every time. Suddenly, your brain starts working again.
"You can use colours. Imagine you are saving the ball, and at the same time a card is held up. You save the ball and shout the colour -- you are concentrating on more things. Your brain is working much more than just with a simple catch."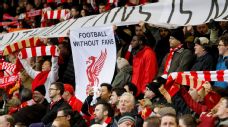 Cech said other initiatives included using a table tennis robot that shoots ping-pong balls which are then caught one-handed "so it gives you a completely different hand-eye coordination."
And he added: "I liked the way we tried to find a way forward.
"We used to play peteca, which is a Brazilian game played with a shuttlecock that has a rubber bottom. You hit it with your palm and you play a game like tennis but we did it by using the crossbar as a net. We used both hands and played a little tournament for the warm-up -- you dive, you jump, you use your whole body and hand-eye coordination.
"You realise how much weaker your left can be compared to your right if you are right-handed. He is not afraid to look for things like that.
"At this level, it is a constant battle of getting something extra, but you can learn every day until you are 80."
Liam is ESPN FC's Chelsea correspondent. Follow him on Twitter: @Liam_Twomey.