Arsenal's Alex Oxlade-Chamberlain still not sure which position he prefers
Ever since he joined Arsenal as a 17-year-old, Alex Oxlade-Chamberlain has faced questions about whether he's better suited to play as a winger or in central midfield.
And at 22 and with many still waiting for the England international to find his natural place in the Arsenal lineup, he's not in a hurry to make up his mind.
"I'm not really sure personally where I prefer to play," Oxlade-Chamberlain told Arsenal's official website. "I'm happy to play in both positions.
"Maybe eventually in the next few years I might have to tie myself down to one and try to become as good as I can in that position. But who knows what the future holds, and I'm happy to play both."
Oxlade-Chamberlain grew up playing primarily as a central midfielder, but has been used mainly as a winger by Arsene Wenger since leaving Southampton in 2011 because of his pace and ability to take on defenders.
"Whenever I do get asked to go back in there [centrally], I'm happy to do that," Oxlade-Chamberlain said. "Sometimes in midfield it's nice because you do get a little bit more of the ball, and maybe out wide you rely on people to get you the ball.
"But obviously when you're out wide you have the licence to attack a bit more and run at people which is a strong part of my game."
"The Ox" has had another stop-and-start season because of injuries and is currently competing with Joel Campbell for a starting spot on the right wing in Wenger's side.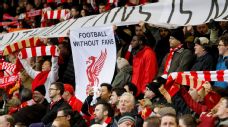 Before Santi Cazorla sustained a long-term knee injury, Wenger had primarily been moving Aaron Ramsey out on the right instead of his preferred role in the middle, and Oxlade-Chamberlain said the ability to switch between positions is a key skill in the modern game.
"Versatility is an extra string to a player's bow," he said. "In the long run it's probably better to tie yourself down to one position, and really become established in one area to be as good as you can in that position. [But] I think throughout your career you'll always be asked to play in slightly different positions here and there.
"And the needs for the team come first, so if you have to fill in at a different role, you'll be expected to do that. ...
"So not just for me, I think for everyone it's important to have a slightly versatile side to your game."