Arsene Wenger plans Arsenal mini-break to boost league title hopes
Arsene Wenger has to decide whether to chase history in the FA Cup this weekend or prioritise the Premier League as he prepares to give some of his key Arsenal players a mini-break after an exhausting Christmas schedule.
Arsenal have a chance to become the first team in 130 years to win the FA Cup three times in a row, which would also give Wenger a record seventh victory in the competition.
But with the Gunners also poised to challenge for a first Premier League title since 2004, Wenger has decided to rest some squad members despite reservations over how they will return for Saturday's FA Cup third-round clash against Sunderland.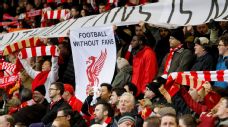 "I will give them a couple of days, an extra rest but you never know what shape they come back in," Wenger told reporters. "It depends what you do when you have a rest. You can come back more tired."
With his squad hit by injuries, Wenger had little opportunity to rotate players such as Mesut Ozil, Olivier Giroud and Aaron Ramsey over the holiday period.
Arsenal still managed to win three of four games, but showed tired legs in Saturday's 1-0 win over Newcastle that saw the team go two points clear atop the table.
And with a crucial league game coming up at Liverpool next Wednesday, Wenger would probably like to give that trio a rest against Sunderland -- despite having a chance to become the first team since Blackburn Rovers in 1886 to win the trophy three years in a row.
The problem for the Frenchman is that injuries have left him with few options in attack. While Alexis Sanchez is expected to return to training this week after a hamstring injury, Wenger may not want to risk his fitness ahead of the Liverpool game.
The Gunners are still waiting for Basel midfielder Mohamed Elneny to be granted a work permit before completing a deal for the Egyptian, meaning he may not be available either.
When asked after the Newcastle game whether he would rotate heavily against Sunderland, Wenger said: "I don't have much choice at the moment, so I don't think I'll be able to do that."
One player likely to get a break is Petr Cech, if Wenger stays true to his habit of using his backup goalkeeper in the FA Cup.
For David Ospina, that would mean a first start since the disappointing home loss to Olympiakos in the Champions League, when the Colombian was heavily criticised for a massive blunder on the visitors' second goal. Ospina was sidelined with a shoulder injury after that game, and has been linked with a possible move away from the Emirates in the January transfer window.
So has Mathieu Debuchy, who wants regular playing time after losing his spot at right back to Hector Bellerin -- and the French defender could also be given a chance to impress possible suitors.