Arsenal manager Arsene Wenger criticises UEFA doping rules
Arsene Wenger has called on UEFA to change its rules on drug cheats, saying the current regulations "basically accept doping."
Dinamo Zagreb midfielder Arijan Ademi was handed a four-year ban for failing a drugs test after the Croatian side beat Arsenal in the Champions League in September.
Zoran Mamic's side won 2-1 in Zagreb and now Arsenal face them again at Emirates Stadium knowing they must secure a victory to stand any chance of getting out of their group.
Wenger has been outspoken against doping, especially in a recent interview with L'Equipe Sport & Style, and questioned why UEFA rulings means there is no way of disqualifying a team from continental competition unless more than two players fail a test.

Arsenal
Dinamo Zagreb
Game Details
Asked if he found the regulations strange, Wenger said: "Yes, of course. It's a surprising rule. UEFA applies the rule that is planned but I personally don't agree with the rule. You cannot say that they had a doped player but the result stands.
"That means you basically accept doping. But it is the rule and we accept that. We have to look at ourselves and deal with our own performance."
The Frenchman believes the rules need to be altered but admitted he did not know how much public backing he would receive after seeing UEFA's doping team visit Arsenal's training ground shortly after his recent comments.
"I don't know if I would have the support of anybody but I came out on that and as a result we had a doping control from UEFA on Friday," he added.
"We had 10 people on Friday to control us. I do not want to speculate too much on the career of a player. In between [the match in September and now] he has been punished. There are two things: our performance on the day and the fact that they had a doped player."
Wenger's comments brought a response from UEFA, pointing to the relevant section of the WADA code and the governing body's use of blood tests in addition to urine tests.
UEFA spokesman Pedro Pinto said in a statement released to Press Association Sport: "UEFA's anti-doping regulations regarding the consequences for teams for doping offences are strictly in accordance with article 11 of the WADA code that states that 'where more than one team member in a team sport has been notified of a possible anti-doping rule violation, the team shall be subject to target testing for the event. If more than two team members in a team sport are found to have committed an anti-doping rule violation during the event, the team may be subject to disqualification or other disciplinary action.'
"Blood testing is a key part of UEFA's anti-doping arsenal. UEFA has in fact been blood testing since 2008. In the 2014-2015 season, UEFA carried out 2,318 tests -- 2,024 urine tests and 294 blood tests."
Mamic told Wenger he should write his own rules if he wants to see the Croatian side kicked out of the Champions League.
"Wenger can think and talk about what he wants but there are other people who make decisions about that and that will be in the future," said Mamic, whose side will be appealing Ademi's ban.
"I can suggest him to write the rules for UEFA. I think this situation is not the point of this press conference so we don't need to talk about Ademi."
The 2-1 loss in Croatia was the first of three damaging defeats in Arsenal's first four Group F matches which have left their European hopes hanging by a thread.
Even victory on Tuesday night may not be enough if Bayern Munich fail to beat Olympiakos in Germany.
Arsenal were thrashed 5-1 when they visited Munich a fortnight ago and they have now only won one in five.
They passed up the chance to move to the top of the Premier League having slipped to defeat at West Brom on Saturday -- a result made worse as key midfielder Francis Coquelin suffered a serious knee injury.
The 24-year-old has developed into a first-team regular at Emirates Stadium with Wenger confirming he will be missing for at least two months and is hoping a scan does not rule the France international out for even longer.
''I'm always a bit cautious,'' he said when asked about the seriousness of Coquelin's injury.
''It is at least two months but I'm cautious as we had so many bad surprises on scans that I do not want to speculate more than that. Certainly for the next two months we play without Coquelin.
''It is of course a disappointment to lose him in the longer term but we have in the squad the players who can compensate. We have lost a player of quality for a while but we know that can happen."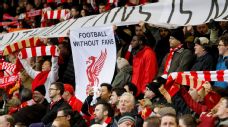 Wenger insisted in his L'Equipe interview that he had never told any of his players to take a performance-enhancing substance as a matter of personal pride. However, he went on to suggest that opponents down the years may not have been as honest -- admitting he can understand the reasons behind the temptation to dope.
"You look at the psychological tests that have been done for 20 years and the temptation is natural," he said. "When a guy is second, and I speak about track and field, there is only room for the hero -- that means the winner.
"The second, nobody cares about. So when he sees he arrives second and the first cheats, he thinks what have I to do? The temptation is of course there. Nobody cares about the second, and sometimes the second is maybe the guy who doesn't cheat."
He also again said the result in Zagreb should have been overturned, as it would have done should an ineligible player had been fielded.
"It doesn't look logical, especially if you test only three [players]," he said. "I said before that I want better controls. And we got better controls straight away [with Friday's tests]. "I don't remember we have been controlled before. We have nothing against it. I more called for blood check. That's a major issue."