Arsene Wenger: Arsenal won't emulate Manchester United spending
Arsenal can now compete for "exceptional" players but it is not in the club's DNA to emulate Manchester United's big spending, according to manager Arsene Wenger.
United have invested heavily over the last two summers as they seek to challenge for the Premier League title for the first time since Sir Alex Ferguson's exit in 2013.
While Arsenal have shown a willingness to sign marquee players like Mesut Ozil and Alexis Sanchez in recent years, Wenger said the club remain determined to follow in the footsteps of Barcelona and Ferguson's United, who enjoyed great success while relying on a core of homegrown players.
"We want to continue to combine stronger financial resources with faith in our philosophy and policy," Wenger said. "That means we want to continue to give chances to young players and build the players from inside our club with our culture.
"Afterwards, if we can buy the exceptional players, we can compete today, but that will not be the basis of our policy.
"Most of the clubs who have been successful are clubs who have done that well. You can take Barcelona or Man United, who had a generation and built their success on players who came from within. These are our values and it is our DNA and it's important we keep that.
"With United's success they have created huge financial resources and today there is no patience for them to continue to do what they did -- and they have the financial resources to go with a different policy.
"As well, they do not have available the players like Paul Scholes, Ryan Giggs and David Beckham inside the club, because youth talent is spread more through 20 clubs than it was 20 years ago."
Wenger, who has been a vocal supporter of financial fair play, also said Roman Abramovich had "caused us enough problems" when he began an era of heavy investment at Chelsea and added that he would prefer that all clubs were given the same transfer kitty.
He said: "You want, ideally, a Premier League where every club gets £100 million and then let's see how good you are. It was the case maybe 30 years ago but not that case anymore.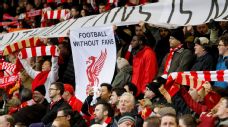 "In Spain only two clubs can win it, in Germany only one club can win it and the different rule changes have changed that. We will certainly not see Nottingham Forest winning the European Cup anymore and we can analyse the reasons, but it is just down to financial resources. The clubs who have better financial resources have the better teams."
Arsenal, whose ability to compete in the transfer market was hindered by their move to Emirates Stadium, last won the Premier League title in 2003-04.
Wenger acknowledges that there have been seasons in which he knew that Arsenal, who saw the likes of Cesc Fabregas, Samir Nasri and Robin van Persie force exits, could not compete for the title.
"Of course," he said. "When you lose your best players and see opponents strengthen their squad -- and they are already stronger than you -- it is impossible."
With Arsenal having retained their key players over recent seasons, that may no longer be the case.
Their fine finish to last season and the arrival of goalkeeper Petr Cech have raised hopes that they can build on their FA Cup triumphs over the last two campaigns and end their wait for the title.
"We have reduced the gap and I believe we are ready to go further," Wenger, who cooled talk of an imminent retirement, said. "We now have the stability that gives us strength. Before I was more exposed to 'Who will go?' and now the question I get more is 'Who will come?'
"The transfer market is not over. We can still buy but I don't think we will sell. Our potential on the market has changed."