Arsene Wenger says Chelsea have security atop table after Arsenal win
Arsene Wenger says Chelsea appear to have "security" atop the Premier League table as Arsenal fight to finish in the top four of the Premier League.
Wenger was resistant to discuss Arsenal's Premier League title chances after seeing them hold out to claim a hard-fought victory at Newcastle.
The Gunners' sixth successive league win left them just four points behind leaders Chelsea, who have two games in hand, but Wenger is adopting a one-game-at-a-time approach to the closing stages of the campaign.
Newcastle United

Arsenal
Game Details
He said: "Look, Chelsea have a good security and at the moment, I feel they have enough cushion to be quite serene.
"We have Manchester City in front of us and behind us, it is tight as well -- the only thing we can do is to win our games.
"I think Chelsea have too much security. I just think at the moment we are not concluding, we are in a fight. You have seen the game today -- in every game, we need to turn up and fight until the last minute to get the points.
"That's what we have to do, just go for the next game and win it. Look, the players want to do as well as they can. We know we have a fight first to be in the top four. We will go step by step, game by game."
Arsenal looked to be heading for a comfortable victory at St James' Park when Olivier Giroud struck twice inside four first-half minutes to give them a commanding 2-0 lead at the break.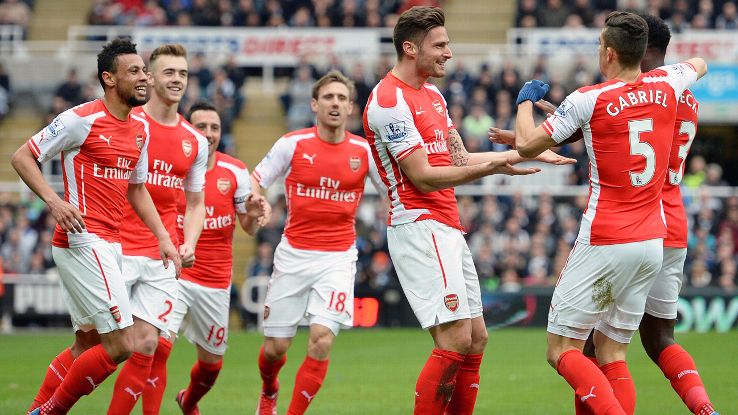 But the Magpies, who were booed off at half-time, returned in determined mood and Moussa Sissoko reduced the deficit within three minutes of the restart.
They then laid siege to the Gunners' goal and but for fine reaction saves by David Ospina from Mike Williamson and Ayoze Perez, they might have emerged with something to show for their efforts.
Wenger said he was pleased with this team's response after a difficult run of fixtures over the past two weeks.
This month Arsenal have won away to Manchester United in the FA Cup, at Monaco in the Champions League -- though the Gunners were eliminated on away goals -- and now Saturday's victory at St James' Park.
Wenger said: "We have played four games in two weeks and three away games at Manchester, in Monaco and here today and we have won all the three.
"The last 40 minutes were difficult because our legs had gone a little bit and Newcastle played very well in the second half.
"But we had an outstanding first half going forward and a very fluent game by creating chance after chance, and in the second half, we had just to show different qualities and hang on."
Information from Press Association was used in this report.