Wenger: Wilshere out for eight weeks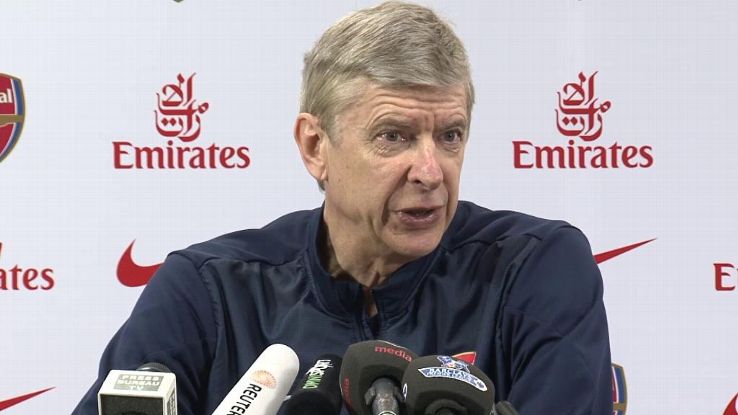 LONDON -- Arsenal manager Arsene Wenger has insisted midfielder Jack Wilshere will play for the club again this season, but says he will be out for eight weeks with the fractured foot he suffered in England's game against Denmark on Wednesday.
• Mangan: Lessons have to be learned
• Hodgson: Agger tackle was honest challenge
A statement from Arsenal and the Football Association on Thursday suggested Wilshere would face six weeks on the sidelines, but Wenger's confirmation that his 22-year-old midfielder is unlikely to play until early May casts serious doubts over his chances of playing for the Gunners again in this campaign.
Wilshere had initially been tipped to return for Arsenal's game against Hull in late April, but the latest timescale on his recovery means he may only be fit to return for the Gunners' final Premier League game of the season against Norwich on May 11.
"Jack will play again [for Arsenal] this season," Wenger said. "He will be out for a maximum of six weeks before he can absorb training.
"He will work on his fitness during his injury. Two weeks after, he should be competitive, so to play in a game eight weeks.
"It is a blow for him and for us. From now on, we want him to recover as quickly as possible and get him to come back as quickly as possible and prepare for the rest of the season.
"You can only be very down in a situation like that, especially in the first few days. He is in a boot and he has gone away for a few days to get away from the trouble, the disappointment and think about something else.
"It is certainly very difficult at [Wilshere's] age to have injuries.
"You want to jump out of bed, go on a football pitch and play. When you can't do that, it is difficult mentally. I hope it is his last accident for a long, long time."
Wenger went on to dismiss suggestions that he was frustrated by Wilshere's decision to continue in the England game against Denmark after he took the knock on his foot, as he stressed there was no ill-feeling towards anyone involved in the incident.
"It is an accident. The tackle was strong, but I think he wanted to go for the ball," Wenger said of the challenge from Liverpool defender Daniel Agger at Wembley, before he was asked about Wilshere's continued stay on the pitch after the challenge.
"At some stage, it is the player that gives you an indication. You give him a few minutes to see how he feels and if there is no pain, you carry on. We are not at the point where you can have an instant X-Ray to see how the damage is. We are all sorry for him."
Wenger said Arsenal have not discussed the prospect of the club receiving compensation from the English FA following Wilshere's injury and was keen to confirm he is eager to see him take to the field at the World Cup finals next summer.
"Any player who has an opportunity to go to the World Cup, you don't want to talk him out of that," added Wenger. "You want to encourage him to go to the World Cup because the meaning to go to the World Cup is immense. I will do everything to help him to get there.
"A fracture is a fracture. It's not muscular or ligament. Once it is healed there is no reason to have a restriction in your preparation."