Argentina legend Diego Maradona to be subject of new documentary
Filmmaker Asif Kapadia has said his next documentary will be about Argentina legend Diego Maradona.
Kapadia was the man behind acclaimed documentaries "Senna" and "Amy" -- about racing driver Ayrton Senna and singer Amy Winehouse respectively.
And he will now turn his attention to telling the story of one of the greatest footballers to play the game and a man who led his country to World Cup success in 1986.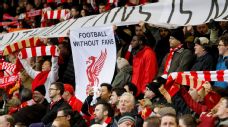 "I've long been a fan of Diego Maradona," Kapadia is quoted as saying by The Independent. "I was fascinated by his journey, wherever he went there were moments of incredible brilliance and drama. He was a leader, taking his teams to the very top, but also many lows in his career.
"He was always the little guy fighting against the system... and he was willing to do anything, to use all of his cunning and intelligence to win. Diego is the greatest player of all time. His life was one of extremes but somehow, ever the street fighter, he has survived to tell the tale."
Maradona, who has battled drug addiction and financial problems in the past, also managed Argentina at the 2010 World Cup, while he played for clubs including Napoli, Barcelona and Boca Juniors.