Sabella: We needed more efficiency
Argentina manager Alejandro Sabella suggested "results are always secondary" to performances, as he hailed his side's efforts despite their 1-0 defeat to Germany in the World Cup final.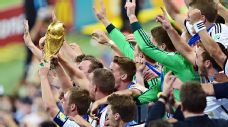 The outgoing Argentina boss, who was coy about his resignation, admitted his team were struggling with fatigue in the extra-time period that saw Mario Gotze grab a stunning German winner in the 113th minute, with Sabella trying to find a silver lining amid his side's heartache.
"I feel sad at not being able to win the tournament but I'm very proud of the team, who played a great match," Sabella said. "The team grew today and made a great game against a great power. We were overcome during extra time, but we had chances.
"These are very close matches and when you make a mistake, it's very difficult to turn it around. Today, we had our opportunities and we needed more efficiency. Germany had it.
"I congratulate the players, who made their country proud for the effort they put in to the championship," Sabella said after the match. "I think the people will recognise that. Results are always secondary."
Argentina's Lionel Messi won the Golden Ball as the tournament's best player. He's the fifth consecutive Golden Ball winner who did not win the World Cup, but Sabella said the honour was well deserved.
"He played an extraordinary World Cup and was a fundamental factor in the team," Sabella said. "Messi has always been one of the greats.
"The World Cup is a highly demanding tournament. As far as his reputation is concerned, he was there before and has been there for quite a while, in the pantheon of greats.
The teams fought into extra time, and Sabella said the final result could have gone either way.
"This was a very even match," the manager said. "Germany are a team who handle the ball well and the match had its ups and downs. We had clearer opportunities.
"When we have opportunities to score, we have to convert. We wanted to change the style of play because we thought it was a way of being more offensive and trying to win the match before extra time."
Argentina midfielder Javier Mascherano could not hide his agony, as he saw his chance for World Cup glory slip by.
"Sadly, we are going to feel this pain for the rest of our lives because this was our chance," Mascherano said. "It is difficult to explain, the match got away from us at the end. We did everything we could to win. We had the best chances and physically we fit all the way through the match.
"We gave everything. The pain is immense. We wanted to win the World Cup for Argentina. Today we gave all that we could and we did what we could and we feel terrible for ourselves and our fans. This was our chance. We are so very disappointed."
Argentina is the third country to finish as World Cup runner-up three times, despite trailing for only the final seven minutes of the tournament. Argentina hadn't conceded a goal in 455 minutes before Gotze's score.
"The boys played an extraordinary World Cup and improved as they moved on," Sabella said. "It was exciting to see them give everything for the Argentinean jersey. They can look at themselves and say they gave everything.
"The players are bitter and sad because we had a huge dream. We wanted to win the final and to be perfect; we needed to be more efficient. Happy is not the word, but I am pleased for the players.
Germany
Argentina
Game Details
"More than anything, these were warriors. I know that this is not adequately used because we are talking about football, but I hope you understand what I mean when I say 'warrior.'
"I congratulated the players because we always say that beyond the sadness of this result, there is something that has to do with your performance and a coach must always assess that. They left their skin on the pitch and left their last drop of sweat.
Sabella, who said on Friday that he would resign from coaching Argentina after the World Cup, was coy about his plans.
"I have nothing to say about the future," he said. "The future for me is to be with the players, my family, but to rest a bit. We will rest for a couple of days and we will see."
For now, he's left to remember the high points of a tournament in which his team came up just short.
"Taking into account who the opponent was, bearing in mind that we had one less day of rest, and the 24 years it took us to get here, we have won," Sabella said.
"We haven't won gold, but we won."