Halilhodzic: Algeria always improving
Algeria coach Vahid Halilhodzic views his team's advancement to the knockout stage as a culmination of three years' worth of improvement.
The Desert Foxes made history by progressing past the group stage for the first time in the nation's history after holding on for a 1-1 draw with Russia on Thursday.
- Lomas: Three Points on Algeria-Russia
"I am very proud of what we achieved tonight," Halilhodzic said. "Algeria played a heroic match and qualification for the next round is perfectly deserved. We are very, very proud of what we have done for the past three years. We have progressed and this is a gift. I love when I see my team fighting for a result."
Islam Slimani, whose header gave Algeria the equaliser they needed to advance, said the goal was "a dream come true for me."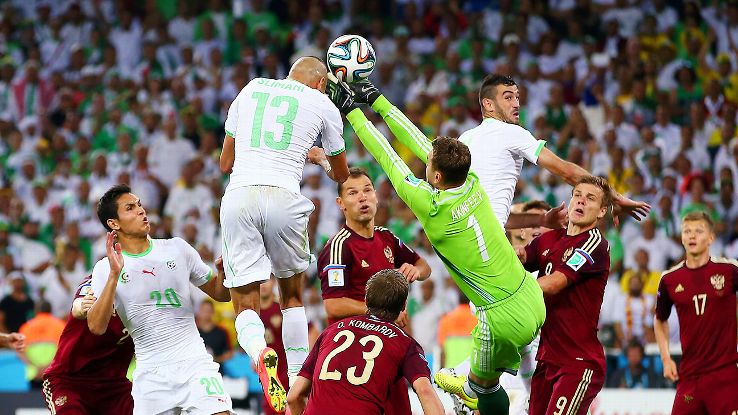 "The whole team needs to be congratulated," he said. "We played two great matches and we deserved to qualify for the next round.
"It's great to score and to be man of the match. It's a bonus because I love playing for this team. We follow the instructions of the coach and these are the results we get."
Algeria will face their toughest competition yet in the round of 16 when they face Germany on Monday, but Halilhodzic said he wasn't quite ready to look at the next match.

Algeria

Russia
Game Details
"Give me some time to enjoy the match today," he said. "I watched USA-Germany. The Germans run nonstop, so it will be even more complicated."
Algeria gathered plenty of fans from the locals for their style of play and underdog status, and Halilhodzic said he welcomed all the support he can get.
"There's a lot of love for the Algerian team, even in Brazil," he said. "They love our sincerity and our behavior is irreproachable. A coach like me can only be proud of the way our team has played. There are teams better than us, but our team has gotten a lot of sympathy.
"I hope that we will not disappoint our supporters. I know that Brazilian people like spectacular and technical football. We can do that. We can satisfy you. We know we are not at that level, but we will do our best to attract the sympathy of the Brazilian fans in Porto Alegre."