Pierre-Emerick Aubameyang confused by African award criticism
Borussia Dortmund forward Pierre-Emerick Aubameyang says he has spoken to Andre Ayew but still cannot understand why the Swansea attacker and Manchester City's Yaya Toure reacted badly to him being named African Player of the Year.
Aubameyang, 26, pipped Ayew and Toure to the honour earlier this month after scoring over 40 goals in all competitions for his club and country Gabon in 2015.
The news did not go down well with Toure, 32, who captained the Ivory Coast as they beat Ghana on penalties to win the African Nations Cup last February.
The former Barcelona player, who had previously won the prize four years in a row, told RFI that the fact the award went to someone who was not involved in the 2015 African Nations Cup final brought "shame" to the continent.
Ayew, 26, also found it hard to comprehend why his friend Aubameyang had beaten them to the accolade, saying that players who starred at international level should have been favoured.
"The criteria that they use in the year of an African Nations Cup will have to be explained to me," Ghana international Ayew was quoted as saying by L'Equipe.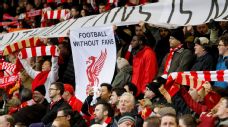 "Yaya and I were finalists... he won, I finished as top goal scorer. Then at club level it went really well when I went back to Marseille and I was even named as Player of the Month for August in England with Swansea.
"And Yaya, captain of the Elephants, had a great year too. So I thought it would have been one of us two."
Aubameyang found the back of the net once at the 2015 African Nations Cup and Gabon did not progress beyond the group stage.
But the former St Etienne player, who has scored 27 goals this season, has once again shrugged off the criticism.
"I spoke a bit with Andre Ayew," Aubameyang told French TV show Canal Football Club. "I didn't understand very well why they reacted in that way. It's no big deal.
"But I think the trophy is based on the whole season. I think my season wasn't too bad -- or the whole calendar year anyway. But I don't really pay attention to [the criticism]. It's true that it affected me. It's a pity that they might react like that."