AC Milan and Hernan Crespo deny wrongdoing in tax investigation
AC Milan and Hernan Crespo have both rejected claims they defrauded the Italian tax authorities, after searches were carried out investigators on Tuesday morning.
Milan's headquarters were one of the locations tax authorities raided as part of a probe named Fuorigioco (offside) into suspected intentional fraudulent behaviour in the conduct of transfers.
In total 64 individuals, including Crespo and Milan's general manager Adriano Galliani, appear on a list of suspects released by the Naples pubic prosecutor with the investigation, which was first launched in 2012, ongoing.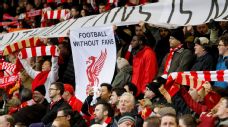 "Today, the public prosecutor of Naples decided to give Adriano Galliani a termination notice relating to the investigation for a series of events that are absolutely marginal and not founded and which will come to a resolution, in terms of both tax and criminal law, with a due dismissal," read a statement on the club's official website, signed by the club's solicitors Niccolo Ghedini and Leandro Cantamessa.
Crespo was equally dismissive of the allegations, taking to Facebook to distance himself from the latest scandal to hit Italian football.
"Dear friends, in my career I have always been used to attacking and I will continue to do so," he wrote. "I don't need to defend myself: I AM TOTALLY UNCONNECTED to what happened today, related to the investigation by the prosecutor.
"I am certain that there will be a total DISMISSAL [of the case]. Thanks for all the many messages of respect and faith."
The Italian fiscal police are reported to have seized assets with a value of €12 million, which it is claimed covers the losses they have incurred as part of what they claim to be widespread malpractice in the processing of taxation in transfers of footballers.
Milan are not the only club suspected, with Napoli, Juventus, Genoa and several other clubs also under investigation.